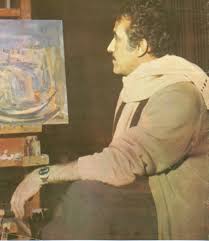 Khalid Al-Jadir was amongst the most outstanding, brilliant and inventive men of the Iraqi Art movement in twentieth century. He was one of those most extraordinary artists in the history of modern Iraqi and Arab art, attracting wide acknowledgement, and yet did not get the much deserved chance to emerge and be known on the world stage like the foremost European and international artists.
Khalid Al-Jadir has left behind a unique realistic-expressionist artistic vision. His vision served as a means through which he conveyed his impression about every place he lived in or visited, over five decades, ranging from Iraq, Syria, Lebanon, Gulf States, Saudi Arabia, and Brunei eastward to Europe and Morocco in the West.
Through his childhood and teens, Khalid's passion for depicting accurately the features of the outer world was so great that he used to tell me jokingly the invention of the camera was for him competition, rivaling his own skills.
Khalid Al-Jadir successfully developed a realistic-expressionist style that was unique to him resulting from his persistent, experimental work that had taken place in Iraq before his departure to Paris to study in the 'Beaux Arts' in 1949.
Khalid Al-Jadir was undoubtedly influenced by European arts, yet he was able to create his own 'Iraqi' style, which remained constant and unchanged until his very last sketch. Indeed, he never deviated from this line except when it came to elaborately innovate in this style with the purpose of enhancing the lure, splendor and richness of his artistic image.
In his obituary of Al-Jadir, Shaker Hassan Al Sa'eed, the Iraqi painter and one of top art critiques in the Arab world said: "He was truly, incontestably the precursor of contemporary expressionist art in Iraq".
'Adel Kamel, the Iraqi art critique, writes with regard to the unity of style in Khalid's works:
The issue of style in Iraqi plastic art was still not understood in its real dimension before Khalid Al-Jadir, one of the precursors, could endow it with a clear a definite solution. This solution is related to the artist's style as a whole, meaning the style that identifies the art with its actual context, its environment, ambiance as well as its spiritual-artistic significance. In this vein, we note that Khalid Al-Jadir has not adopted a different style other than that he has been known for. Unlike Jawad Salim and Hafidh Al-Duroobyi, and even Faiq Hassan, Al-Jadir did not experiment with 'abstractionism' or the other artistic types, but actually adopted the realist trend which, doubtless, comprises relatively different stylistic essays.
He goes on emphasizing that it is imperative for every study of the art of painting in Iraq to refer to this particular phenomenon which is different from the predominating trend, and which is indicative of a kind of discomfort pertaining to style. He explains that Khalid Al-Jadir admirably committed himself to preserve the oneness of and sameness in his style on the basis of practical rules and norms set by himself.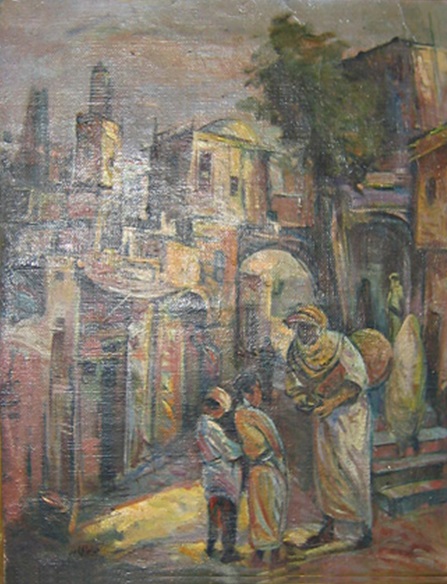 Khalid Khalid Al-Jadir, the person, was unusual, he was a message bearer. He used to perform painting and teaching while keeping in mind the duties incumbent on him in his quality of a human being, an artist, an intellectual, a historian and a nationalist. He was very fond of Iraq and a great lover of freedom. The Iraqi journalist Majid Al 'Izzi, describes him as being a passionate lover of his homeland and its nature, a love that he qualifies as Sufi, pure and genuine.
The Iraqi artist, Hussein Al-Hilali, mentions in one of his articles that Khalid Al-Jadir bore in his heart a great love for his homeland and for his fellow people, a love that is unlimited. He equally loved humankind by virtue of the heartful sympathy it manifested towards him and his home country, free of any expectations for reward.
On the other hand, musician and art critique Asaad Mohammed Ali writes that Al-Jadir was a distinguished person who represented the true artist in his awareness of his mission at the highest level.
Shakir Hassan Al Sa'eed wrote:
"How wonderful that Al-Jadir's artistic message should remain his scientific message as well, for him, a scientist in his art is an artist in his science. And out of his dual attitude we really benefit from his true art. His paints elicit an overwhelming feeling of pleasure and beauty and reflect a broad sense of civilization and humanity.
His humanist tendency would soon reveal itself not in the representation of figures but in merging them with nature. The on lookers would clearly realize how the artist painted the world as a whole with the same degree of importance as though reality was void of any details. This profound spiritual tendency was the fundamental impetus toward the crystallization of the whole within the part; and the visible reality within an impressionist or even an expressionist touch."
Khalid Al-Jadir had developed a personal tradition of painting scenes of all the places he visited or where he lived, at home or in exile. His paintings display a great thematic variety:
- Nature, which is the setting of his artistic work and the scope of human civilization making.
- Social life as represented in tents, clay huts, villages, Iraqi marshland, streets and quarter of old medinas along with people's customs, dress and jewellery.
- Rivers, sea-shores and small boats.
- Iraqi historical sites and oil riches of the country.
- Living environment and the popular scenes depicting people's social activities in markets, in medina's squares and narrow streets.
- A special focus was dedicated by the artist to the theme of the human being, especially women and children who were painted in various social situations and reflected different disadvantaged socio-economic conditions. Indeed, such painting show figures like women farmers, woods-women, brook-woman and poor children in the street.
- Depictions of the female form.
- Portraits of people where the artist dexterously reflects their inner self and deep expressions.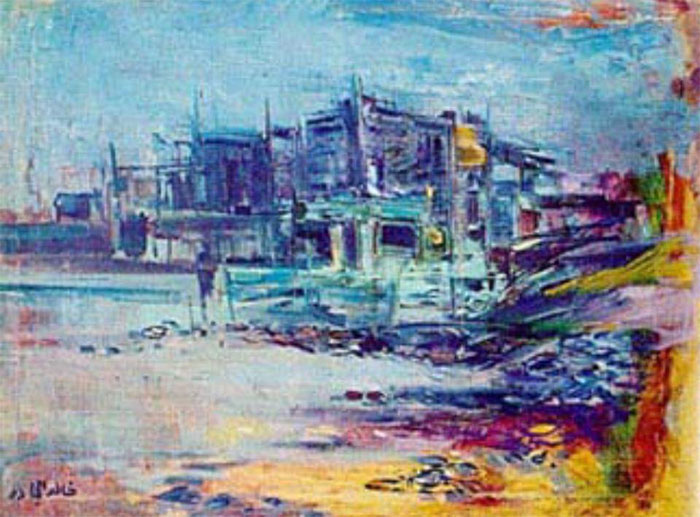 Khalid Al-Jadir used to perform his art on a daily basis, with the same enthusiasm and endless energy, and was a prolific artist. His love for art was no less than his passion for life, which he fully dedicated to artwork and knowledge acquisition. This perhaps explains why he enjoyed an unusually strong visual memory. I personally recall, with this regard, that when, in the 1950s, the Iraqi ministry of education charged him with the task of reproducing an illustrated version of a popular Iraqi school book for pupils, he surprisingly drew the animal figures involved relying exclusively on his memory, quite in the same manner we would do to generate words in writing texts.
Al-Jadir made use of various techniques depending on the medium he employed: oil colors, water colors, pastels, Chinese ink, pencils, magic, Masonite, wood, canvas, niello inlaid silver plates, silver-damascened iron dishes or clay.
He often spent hours working on his paintings. His method consisted in hanging his works on all the walls of the flat to keep them under the scrutiny of his expert eyes. That way he could readily make amendments where he felt they were needed. His improvement of the painting could continue even after he had signed it. Some of his artworks underwent this process for years, a fact which is highly reflective of his determination to excel, trick and amuse the eye and spirit of the viewer.
Al-Jadir often signed his works in Arabic, and sometimes in both Arabic and English. Although his paintings reflected the environment where they were produced, the living conditions, the state of mind and emotions of the producer, he would rarely date them, probably because his paintings, in a realist-expressionist style, sufficed to reveal the period, compensating for the lack of date.
Khalid Al-Jadir most frequently used blue and grey in his paintings, as if he meant to bridge the sky and soil of Mesopotamia. The artist's skilful manipulation of colors was so exceptional that his peer, artist Jamil Hammudi, qualified it as being a considerable operation and a magnificent achievement in the world of plastic arts creation. He also stated that Al-Jadir's technique of color application could be perceived as a new school, which he chose to brand as the 'Brush-Touch School'.
Architect and art critique Kifah Al-Habib, added in the same vein that Al-Jadir granted himself full freedom to mix paints directly on a surface of the painting, but rarely did he make use of a palette.
In Rabat, where we shared the same flat for his last nine years of life, I used to wake up at night to find that he had left over paints on the palette. Motivated by the limited financial means we had, I used to apply this panoply of paints on a new surface for him to work with the over the following days. It is difficult to describe my astonishment at the skill with which he invested the paint I had laid out on the fresh palette to create captivating colors on a new painting.